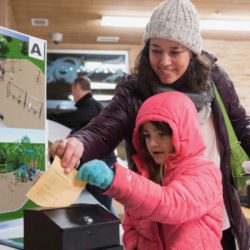 #32. Planning & Decision-making
Who better to provide input on neighborhood playgrounds than the children who use them? Last week, the Parks & Recreation Department invited families to provide input on playground equipment for refurbished neighborhood parks. Residents viewed four schematics and cast a vote for their favorite option. Children as well as adults voted how the $60,0000 playground budget would be spent. The old equipment is removed and donated to Kids Around the World, an organization that installs playgrounds in other countries. In the past, St. Louis Park playground equipment has gone to Poland, Dominican Republic and Uganda.
Asset #32 – Planning & Decision-making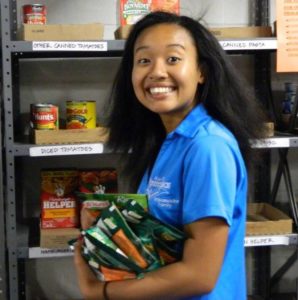 Quyana began volunteering as a young child. She considers it a very significant part of her life. When she was 10, Quyana became a Junior Ambassador for St. Louis Park and at 17, became a Young Adult Ambassador. St. Louis Park Ambassadors are individuals chosen to represent the city through community service and by supporting other communities by participating in their parades and festivals. Her favorite community project was when she organized a food drive at Blaze Pizza for the St. Louis Park Emergency Program. She was amazed by the community support and all the people who donated food. She explained she loves volunteering because "it gives me an empowering role in my community."
Asset #3 – Other Adult Relationships
Several years ago, when volunteering in a mentoring program with College Possible students at St. Louis Park High School, I met Sagal, an impressive high school senior. I work in the St. Louis Park Police Department. Sagal was planning to major in Criminal Justice, so I encouraged her to apply for an internship with the department.
Fast forward: it's now three years later and Sagal is a community service officer, modeling cross-cultural bridge-building and challenging stereotypes, with true poise, style, humor, and a smile. She has done this in many ways including co-facilitating the St. Louis Park Police Department Multicultural Advisory Committee's Iftar dinner (a meal that breaks the fast during the holy month of Ramadan), educating non-Muslim community members on Islam with charm and grace.
When I started out as a volunteer mentor, I had no idea that I would gain an invaluable friendship, or that I would learn so much and be so inspired by someone younger than me. Sagal truly has so much wisdom which continually challenges me to grow and question the status quo.
That's my experience with Asset #3. I met Sagal through a formal mentoring program, but anyone can informally mentor young people. – Afton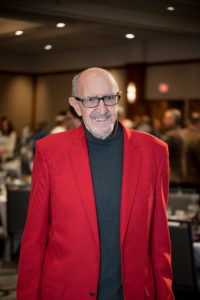 Asset # 38 – Self Esteem
"I believe in the power of personal, handwritten notes."
When he was assistant superintendent, Bob wrote notes of congratulations and affirmation to each of the school district's retirees. He didn't really think much about it, but later learned that many treasured his notes. So, when he turned 80, he decided to write notes to people in the community who had a positive influence on him, to express gratitude before it was too late.
Now he's applying this practice to Children First. Bob sends notes to kids who achieve success or do something extraordinary, whether or not he knows them. He may discover them through the media or through word of mouth. The messages are constructed with 3 S's: short, simple and specific. His hope is that each note is a mini-asset builder, reinforcing the young person's positive behavior and bold self-confidence.
"Some seniors say that can't do anything about Children First," Bob explains, but he disagrees. "You're never too old. Everyone can do something. And you never know, it might turn out to be noteworthy."
Asset #14 – Adult role models

Almost every Thursday night I get to go play futsal with Van. I think the reason Van and I get along so well is because we are both amazing soccer players! But on a serious note, Van is my mentor, my friend and my coach. He is always teaching me something and making me a better soccer player and probably a better person. He encourages me and never lets me give up. I always know he is going to make sure that I am working hard in school and that school is my number one priority. Van is someone I can count on, I know that I am important to him.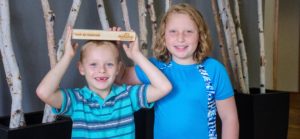 Asset #8 – Youth as resources
During the summer Leo, 6 years, and Faye, 9 years, along with their mother deliver meals to older adults through Meals on Wheels. Leo and Faye look forward to it throughout the week. Every Wednesday they pick up meals from the Walker Senior Center in Minneapolis and are given a drop-off route. They try to guess by the scent what kind of foods they will be delivering that day. Sometimes it's spaghetti, other times chow mien. Along with building their navigation skills, Leo and Faye have built relationships with people they serve. Their favorite client tells them jokes. They have learned that not everyone is privileged as them and it makes them thankful for what they have.